Before today, setting default leave balances and making adjustments to leave balances was a somewhat difficult process. You had to complete and email us a template of the changes so we could make the update on the backend. It was a painful process for us, and I am sure the same for some of you.
Well this is no longer true. We have simplified setting default leave balances and adjusting leave balances. You now have complete control. You no longer need to complete a template or send us information. Just like leave accruals, manual changes to leave are capture in the leave history record. When you view the leave history you will see when the change was made and who made it.
Simply go to Settings then Leave then click on Adjust Leave Balances under the Leave Balances section. You will then see a list of all the people that have Track Leave enabled in their profile. Click Edit to start making changes to a person's leave balance.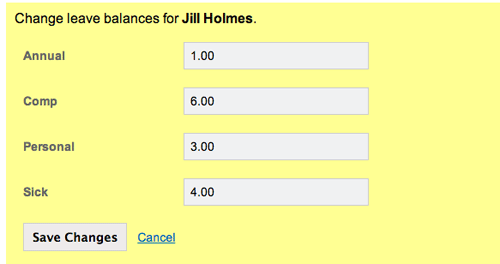 We hope you like this update. Let us know by sharing this post on Google+, Facebook, or Twitter. Enjoy!