It is here! The Official WeWorked Android app is now available for free on Google Play.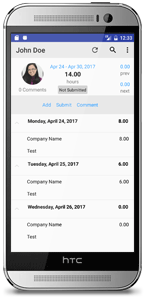 In the past we pointed our android customers to our mobile-friendly version of WeWorked. But we decided that it was time for android users to have a better experience on their device. The first version of the WeWorked for Android is packed with a ton of great features. You will be able to perform 99% of every task on your timesheet. You can submit time, approve time, deny time, review time, add comments, and more.
Because timesheets are the biggest part of WeWorked, we did not want to delay releasing the app to add expense features. Expenses are currently under development and will be released soon.
We hope you enjoy the WeWorked for Android, so be sure to download it today. Send us an email and let us know what you think.
The WeWorked Team