I am so happy to introduce Leave Approvals in WeWorked. WeWorked has always had the ability to track leave accruals and leave used, but for many that wasn't enough. Many of our customers have been managing the act of requesting and approving leave outside of WeWorked. We decided it was time to bring that process inside the application. Here is how the new process works:
1. A user completes and submits a Leave Request.

2. An email is automatically sent to the approver for review. The request can either be approved or denied. Denied requests require a comment to explain the reasoning.

3. If approved, the initiator is notified by email that the request was approved. If denied, the initiator of the request is notified by email of the denial along with the reasoning.
4. Approved Leave Requests are listed on the applicable timesheet. This makes it easy to view the leave request that were approved for that period. Now approvers can easily see if a timesheet has any leave requests approved before approving the timesheet.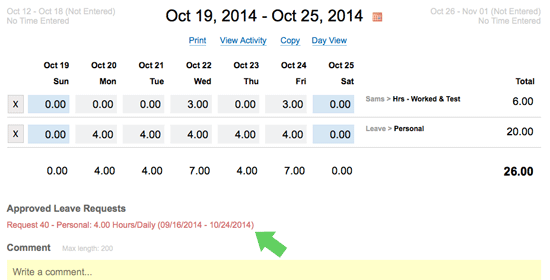 Leave Request History
WeWorked will keep a history of all the actions that occur to a Leave Request. Some of the actions logged are when the leave request was approved, when the leave request was denied, and who submitted the leave request and when.
Leave Request Report
A new report was added to support the new Leave Request functionality. The new Leave Request report gives a snapshot of Leave Requests that have been submitted and their current status. This will be good for forecasting resource levels.
Note: We have given all accounts free access to the Leave Request feature for 30 days. The Leave Requests feature is an additional paid feature. Those that find value in the add on should find the price well below the benefit gained.